News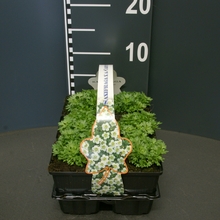 Tuesday 15 December 2015
Nieuw in het assortiment!! Saxifraga
Saxifraga arendsii 'Carpet Purple' en Saxifraga arendsii 'Carpet White'
Onderstaande planten zijn vanaf heden leverbaar in onze vertrouwde 4-packs en 6-packs:
Saxifraga arendsii 'Carpet Purple'
Saxifraga arendsii 'Carpet White'
Saxifraga arendsii 'Carpet Purple' of 'Carpet White', in het nederlands ook mossteenbreek genoemd, is een bodembedekkende, wintergroene vaste plant met een rozetvormende habitus en kleine samengestelde handvormige frisgroene blaadjes. De mossteenbreek bloeit rijkelijk van april tot begin juni met kleine komvormige bloempjes. Na de bloei mag de Saxifraga arendsii getrimt worden om een compacte vorm te behouden. Deze plant is zeer winterhard en prefereert een kalkrijke goed gedraineerde bodem en een standplaats in de halfschaduw of zon. Saxifraga arendsii is wintergroen, ziekteresistent en verdraagt redelijk de luchtvervuiling.