News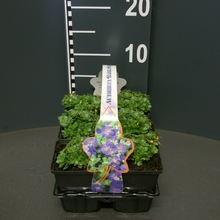 Sunday 15 November 2015
Nieuw in het assortiment!! Aubrieta 'Hamburger Stadtpark'
Onderstaande planten zijn vanaf heden leverbaar in onze vertrouwde 4-packs en 6-packs:
Aubrieta 'Hamburger Stadtpark'
Aubrieta 'Hamburger Stadtpark, in het nederlands ook wel randjesbloem of blauwkussen genoemd omwille van de uitbundige bloei en kussenvormende groeiwijze, is een groenblijvende vaste plant. De bladeren zijn grijsgroen, licht gezaagd en lepelvormig. Aubrieta bloeit uitbundig in de maanden april en mei met kleine lichtpaarse, mauve bloempjes met een geel centrum. De randjesbloem houdt van een standplaats in zon of halfschaduw en prefereert een vochtige, kalkhoudende bodem.Deze plant is goed winterhard, lokt vlinders, bijen en insecten, is weinig ziektegevoelig en matig tot redelijk luchtverontreiniging tolerant. Aubrieta houdt niet van blootstelling aan zoute zeewind en wordt vooral gebruikt als bodembedekker, rotsplant tussen voegen van tegels en stapelmuren.